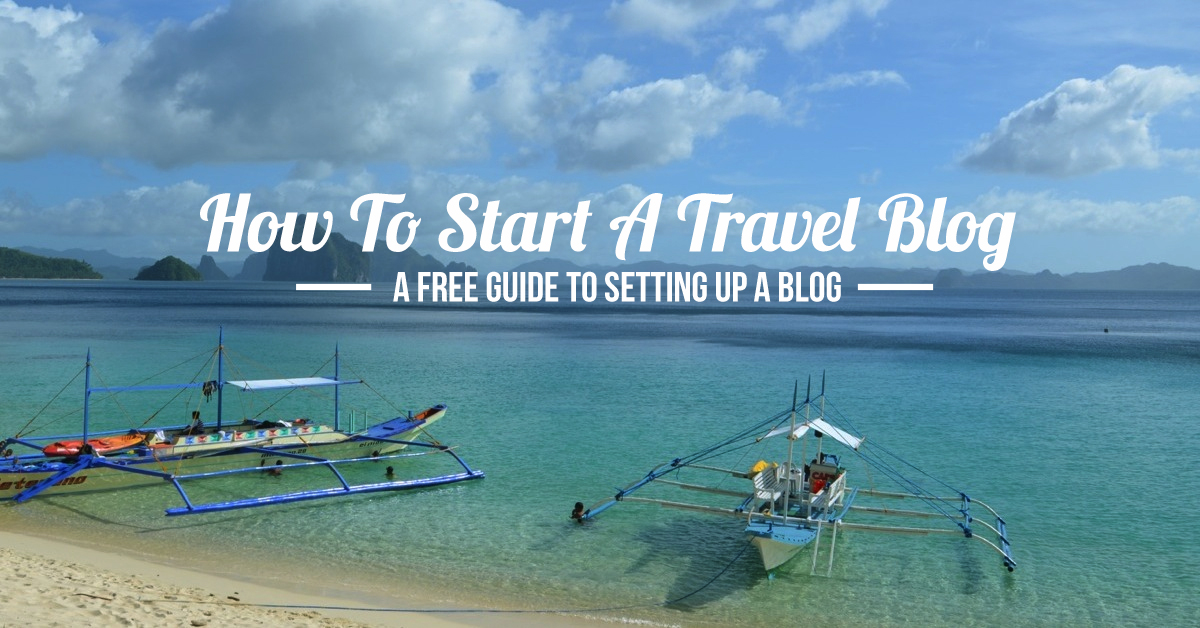 A quick guide to registering a domain and setting up a self-hosted WordPress blog
One question I get asked often is how do I start a travel blog?
To answer this question I've put together a quick-start guide to starting a travel blog. This guide should get you online in less than 30 minutes. From there it's up to you how much time you put into your blog; from a once a week hobby to a full time job.
Free travel blog vs self-hosted travel blog
A free site is ideal if you just want to update your family and friends on your trip, or if you want to try the art of blogging before committing to buying a domain.
WordPress offer a free blog service which will give you a blog address like travelbloggersguide.wordpress.com. If you are just looking for a free travel blog you can one set up at wordpress.com.
A self-hosted blog is where you own the domain and store the content via a hosting service (like here at www.travelbloggersguide.com).
If you are serious about running a travel blog then I recommend having your own self-hosted blog. You have more control over the look and feel of the site when you own your domain. If you want to make a business of your site it will look more professional and trustworthy than being on a free domain.
Even if you are not looking to go professional it's just cool to be able to say that you have your own website.
For readers looking to set up your own site, you might be surprised at how simple the process is.
These 3 steps will get you online and ready to publish in 15 minutes.
Step 1: Choose a name for your travel blog
If you already know what you are going to call your site then you can progress to the next step of ordering your domain and hosting.
If you're still thinking about what to call your site I have written a guide to choosing a domain name for your travel blog.
Once you have picked a name you're now ready to register your domain name and get a hosting package.
Step 2: Register your domain and order hosting
For domain and hosting I personally recommend Bluehost, which I use for many of my sites – including this one. With Bluehost you get a free domain with your hosting (a domain name normally costs about $10-15 a year to register).
You can buy the cheapest package available (starter) which is enough for a new blog. If your site grows from there you can upgrade as you go.
Start setting up your site by ordering your domain and hosting here and follow these instructions.
On the Bluehost page go to the top nav bar and select products > shared web hosting.
From there click get started now and select starter. If you think you will be hosting more than one site select plus (or you can upgrade later if you do).
Next you will be asked to register your domain name.
Assuming your chosen domain is available you will then be taken to the account information page. Fill in your account details as required.
For the package information I opt out of the extras, but if you want to keep your domain ownership private you can opt in here. Domain registrants are required to publish the name and address of the owner of a domain. If you are not comfortable with your address being made public then select Domain Privacy Protection.
You now have domain and hosting for your travel blog. The next step is to set up WordPress.
Step 3: Install WordPress
WordPress is the world's most popular blogging platform and I use it for this site. I have used other blogging platforms for other sites and WP is by far the most user friendly. WordPress is free to download and can be done within your hosting account.
WordPress is so popular because you can create a website without having to know anything about code. You can make a website with a ready-made website template (called a theme) without worrying about how it works. All you need to do is type in your content into a box (similar to an email composition box) and hit "Publish".
WordPress also have thousands of plugins available which can be downloaded to enhance your site.
To install WordPress onto your blog, login to your Bluehost account which will take you to your cPanel.
Find the section called Website Builders and select WordPress.
Next you will be taken to an installation page. Select Install at the Do it yourself (FREE) option.
From here select which domain you would like to install to. You can choose to select your domain with a www or without. I've written about which one to use, but I say just pick which one you prefer.
At the next step select Show advanced options. Here you will set your username and password for your site.
Enter your details and select Install Now.
That's it – your website now has WordPress installed! Easy, right? You will now get an email with your login details, or you can just go to your login page at yoursitename.com/wp-login.php.
Getting started
The process of getting your domain and hosting package and installing WordPress can be done in less than 15 minutes. From here you can technically start publishing immediately. Before you do though here are some other tips.
Your new WordPress site comes with some pre-installed themes. While they are practical themes, you would be better off to install another theme to differentiate yourself from the thousands of blogs that didn't bother to change themes upon installation.
Read more about choosing a theme for your WordPress blog.
You should also reserve your Google email alias, preferably the same name as your domain.
While you are at it get your Twitter name as well.
And before you start blogging, change the WordPress URL structure for your blog.
Now to start blogging
The instructions up to this point will get you online but what you spend on improving your WordPress theme and promoting your site is up to you. There is also the matter of writing content that people will enjoy reading, or at least find useful.
If you have any questions regarding travel blogging or WordPress, send me an email.